Texprocess is back live. Save the date.
The biggest exhibition of our industry will take place on 21-24th of June in Messe Frankfurt, Germany. Juki will exhibit in hall 9 booth B71/51. We are always there with a huge booth, wide offer, and dozens of machines specialists - also this time we will not disappoint you.
Our booth at Messe Frankfurt will be filled with the best Juki sewing machines and innovation solutions with our best support. Find your Agent or contact one of the Juki Offices (click the hyperlink and scroll down) to set up a meeting.
We genuinely missed this unique opportunity to see each and every one of you to show you all the best we have.
Find us at the Messe Frankfurt. We suggest to use Galleria entrance and head towards Hall 9. This year we have a 2 booths next to each other B71 & B51.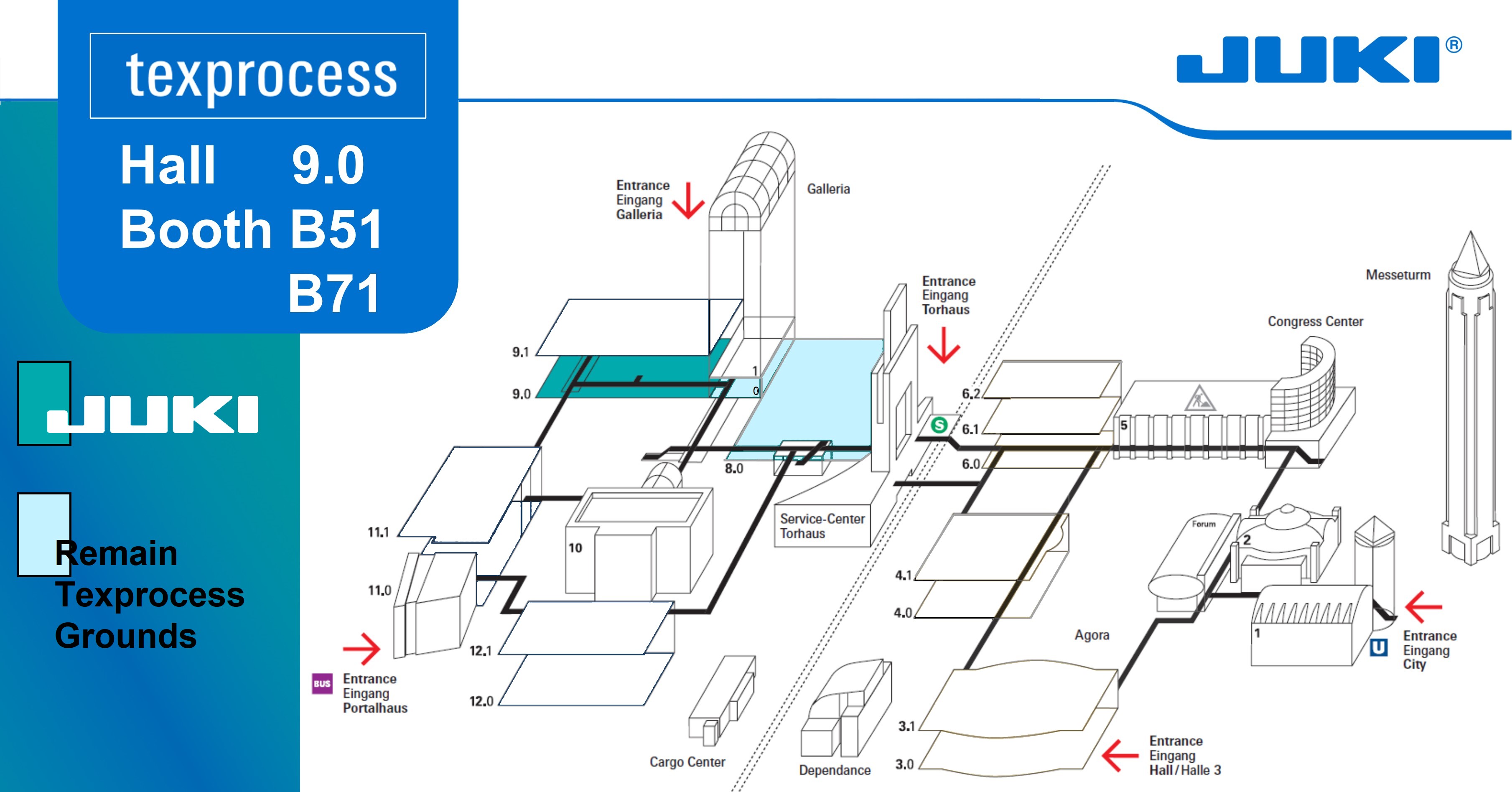 We are working hard to prepare, not only machines, but also new digital content to make sure you can reach Juki news everywhere. Take a look at the latest videos we produced with the best Juki solutions.
JUKI-ShuHaRi
Free app for easy maintenance of Juki machines is a new solution which will be promoted during the show. In ShuHaRi dedicated space you will be able test our app and consult the details with an expert.

JUKI E-learning Platform
JUKI has launched its long-awaited online learning system with both, "New employee training" and "staff training". We are constantly improving our platform to meet your expectation. Visit our booth learn more and share your opinion.
If, for some reason, you are not able to attend to the Texprocess show, you can use the digital platform to connect with us.
Parallel to the show in Frankfurt, Texprocess 2022 will also take place in virtual space. Use the opportunity to a new, additional form of interaction with Juki representatives. This year, the combined live-hybrid event enables contact despite the travel restrictions and other participation inabilities.
From the start of the fair 21 June until 8 July 2022, additional services such as streaming and all networking opportunities will be available to you. You can also extend your visit to the fair by discovering the value of Digital Extension from 13 June 2022.
Visitor tickets are valid for both the live event and the digital platform. Purely digital visitor tickets are only valid for the Digital Extension. With your ticket you can use the digital platform for the entire duration of the event. You can obtain your visitor ticket from Messe Frankfurt's online ticket shop. After purchasing the ticket, you can log in to the digital event platform with your Messe-Login.
Whether you experience the event in Frankfurt live or virtually - take advantage of the diverse opportunities for interaction and networking that this year's event offers. The following digital features are available for you:
• Juki profile
• Real-time communication