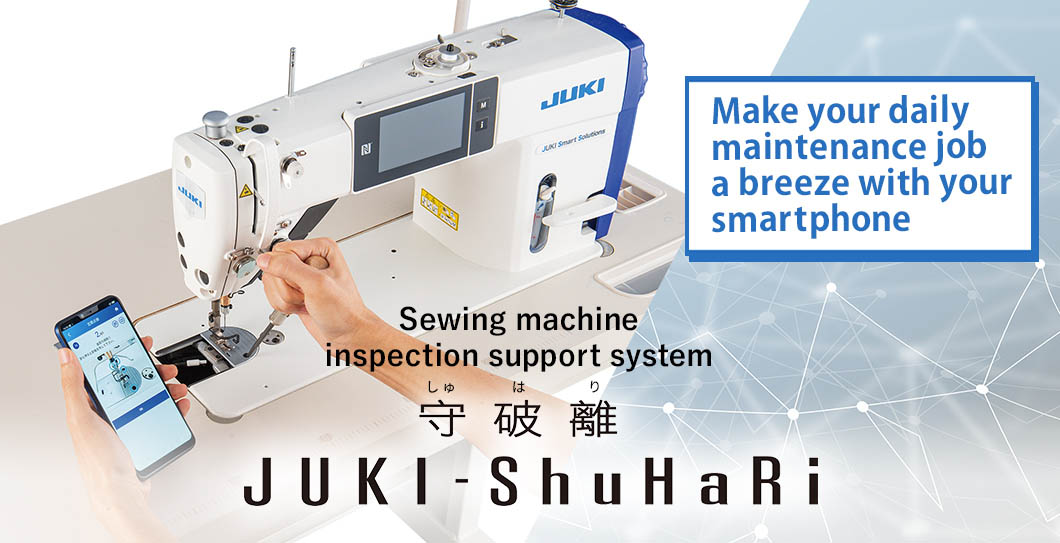 ShuHaRi
[ ShuHaRi ] is an application that digitally supports inspection work for long-term use of your important sewing machine.
If you are facing:

・ Sudden failure of the sewing machine in operation. Not sure how to check each model.

➡Approximately 60 to 70% of failures are caused by "insufficient daily inspections". * JUKI research [ShuHaRi] will give you easy-to-understand advice on how to maintain each model on your smartphone. It also supports education for technical staff.

・ The sewing machine in the factory is not fully utilized

➡[ShuHaRi] can create a "maintenance record" for each sewing machine.

You can manage the status of each sewing machine on a PC (cloud), such as sewing machines that require replacement parts and comments from maintenance staff.

Not sure the replacement parts number and troublesome

➡For NG* parts (*No Good parts that need to be replaced) registered with the ShuHaRi

smartphone app, the part number is automatically displayed in the replacement parts list.
How to use JUKI-ShuHaRi
Benefits of JUKI-ShuHaRi

Sudden failure of sewing machine decreases in number!
Daily cleaning, oil supply, and replacement of expendable parts will significantly decrease sudden failure of sewing machines in number. It also improves your product quality.


Longer lives of sewing machines!
Just 5-minute daily inspection and regular inspection achieves stable sewing quality, as well as extends the product life cycle of the sewing machines.



ShuHaRi Application form



Name of JUKI-ShuHaRi
"Shu Ha Ri" expresses, in Japanese, trainings in Sado (Japanese traditional tea ceremony) and Kendo (Japanese swordsmanship).
The name of JUKI-ShuHaRi represents our aim to disclosure our knowledge of JUKI sewing machine maintenance to grow and evolve with our customers.
represents the state to stick to the basics.

All operators should be able to perform sewing machine inspection in a uniform manner to maintain their sewing machines in appropriate states.
represents the state to exercise the basics.

Operators are now capable to tune their sewing machines based on the materials and sewing items, as well as to troubleshoot.
represents the state to develop the basics.Sewing machines in appropriate states and operators with appropriate skills will produce value-added products.





* Program available on the markets in: Austria, Belgium, Bulgaria, Croatia, Cyprus, Czech Republic, Denmark, Estonia, Finland, France, Germany, Greece, Hungary, Iceland, Ireland, Israel, Latvia, Liechtenstein, Lithuania, Luxembourg, Malta, Netherlands, Norway, Poland, Portugal, Romania, Slovakia, Slovenia, Spain, Sweden, Switzerland, United Kingdom.